Music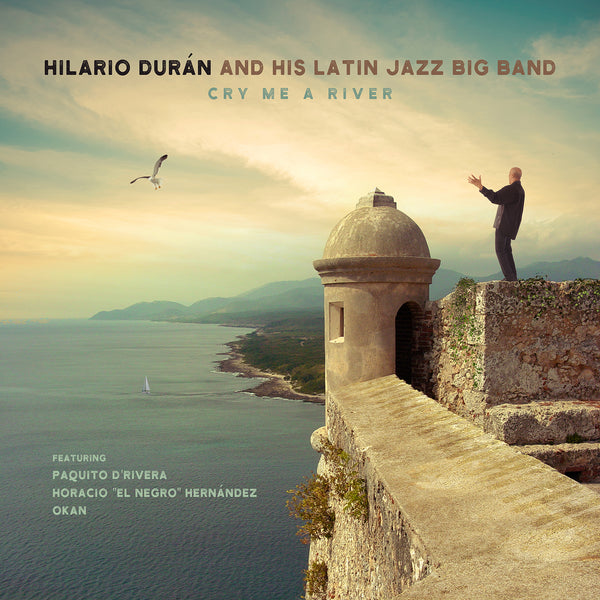 Hilario Duran and his Latin Jazz Big Band
Cry Me A River
Hilario Duran and his Latin Jazz Big Band
Details
HILARIO DURAN AND HIS LATIN JAZZ BIG BAND PRESENTS
CRY ME A RIVER
THE CELEBRATED CUBAN-CANADIAN COMPOSER AND PIANO-MASTER HILARIO DURÁN LEADS HIS NINETEEN-PIECE ENSEMBLE FEATURING SPECIAL GUESTS PAQUITO D'RIVERA AND HORACIO "EL NEGRO" HERNÁNDEZ IN A STELLAR BIG BAND RECORDING – THE FIRST IN 17 YEARS.
Hilario Durán brings the full scope of his artistry, the depth of knowledge of musical genres in the perfect storm of big artistry on Cry Me A River. The nine works on this recording are born of Durán's Afro-Cuban cultural topography but are also informed by his gifts for bending tradition and infusing his arrangements with unfettered improvisation. 
Through the course of the album the Grammy-nominated and Juno Award-winning Durán actively throws overboard melodic, harmonic, and structural hooks that have become expressively blunted through overuse, building big band charts from what might – or might not – be left in the musical continuum.
"I have waited almost twenty years to record another big band album," Durán says. "But there was plenty of preparation for this moment," Durán reveals. He refers to the four radio broadcasts of his compositions and arrangements with the great WDR Big Band in Koln, Germany. "It was great to showcase my music and to 'workshop' some new arrangements... aspects of the craft I learned working with the Orquesta Cubana de Música Moderna in Habana which I inherited from Chucho Valdés… So much to be grateful for the gift of music… it seemed that the time is right for this new album, Cry Me A River," Durán muses.
Durán integrates a myriad of genres into his singular style on the album – traversing innovations that have made his music uniquely breathtaking. He points to Claudia, a song he arranged while he was touring as Musical Director with Valdés, and features D'Rivera on alto saxophone, as Dizzy Gillespie's Night in Tunisia. Fantasia Impromptu is a kind of jazz-meets classical scherzo featuring D'Rivera on clarinet. "It is our way of honoring the classics – in this case, Chopin," Durán says.
Of the title song, Cry Me A River Durán says: "Elizabeth Rodríguez is just fantastic on violin. In her solo she plays deep in the Cuban tradition and follows that with an incredible improvisation!" he says. "Pacá por Juanito is a tribute to guitarist, composer, arranger Juanito Márquez." Durán explains, "he is one of the greatest musicians of Cuba. I learned how to arrange for big band by studying his scores in my early years." Another original is Mambo y Tumbao. "Here, I highlight both traditional forms (mambo) and the revolutionary innovators of Cuban music – the great Bebo Valdés, who invented the 'batanga' rhythm, and the influential bandleader Pérez Prado. And of course, I Remember Mingus is a tribute to Charles Mingus, the great composer, bassist, and bandleader.

One name missing from the performance credits is Yailin Durán, the bandleader's daughter. "She taught me all about hand-movements… everything I know about conducting," Durán explains. "I owe the deepest gratitude to her for all my big band music… for Cry Me A River."
Produced by Peter Cardinali
Recorded at Noble St. Studios by John "Beetle" Bailey
Mixed at the Drive Shed