Music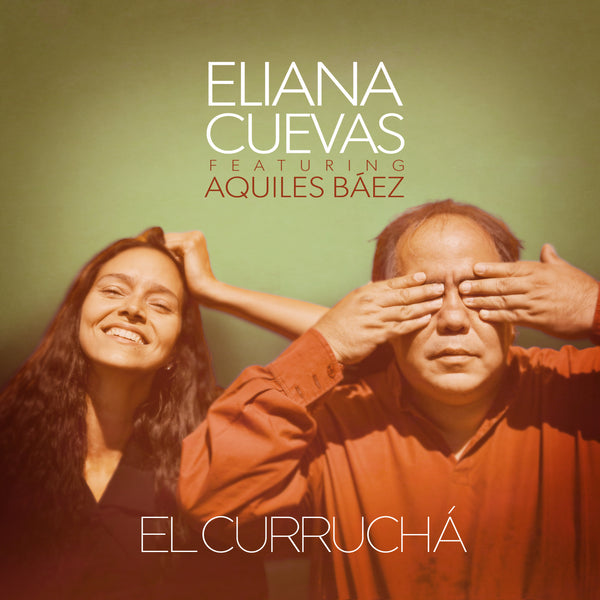 Eliana Cuevas
El Curruchá
Eliana Cuevas
Details
On her new album, El Curruchá featuring Aquiles Báez, renowned Venezuelan singer/songwriter Eliana Cuevas returns to her roots. Her sixth full-length release, El Curruchá (set for a February 12, 2021 worldwide release on ALMA), is a nostalgic homage to the music Eliana grew up listening to in her homeland of Venezuela, prior to emigrating to Toronto with her family as a teenager.
The generous 13-song collection features imaginative new versions of classic Venezuelan songs of the last 30-50 years. Cuevas notes that "the focus in this album is to showcase traditional compositions from Venezuela. I heard these songs on the radio and my family sang and played them."
The album features internationally-renowned guitarist/composer Aquiles Báez (Paquito D'Rivera, Fareed Haque), and the pairing of his fluent playing and Cuevas's pure and versatile vocals is a match made in musical heaven. In a neat twist of fate, Eliana's long-held dream to create such an album owes a great deal to Aquiles.
She explains that "it was many years ago that I listened to an album from a Venezuelan singer that was very well known there, Ilan Chester. He made a recording in 2001, Corazón Navideño, much like El Curruchá, with just voice and guitar, which, as it happens, was played by Aquiles Báez, way before I met him. This was an album I loved and listened to many times, and from there came a dream in the back of my mind that I'd love to do an album like this, with someone like Aquiles."
Happily, that opportunity came along once Eliana connected with Aquiles, as she recalls. "When I went to make my 2014 album Espejo, I e-mailed him from Canada, wanting to hire him to play cuatro on one song. He was very receptive to the idea, so we sent each other files, and he played on my song 'El Tucusito'.'"
"That was our first collaboration, without meeting in person. I then went to Venezuela where we met and collaborated further, and then he brought his trio to Toronto to play some shows with us at the Lulaworld festival in Toronto in 2016. With Aquiles being here, I took the opportunity to record El Curruchá with him, and now the time is right to release it."
The two-day Toronto recording session, engineered by Cuevas' husband Jeremy Ledbetter, went very smoothly, as Báez was already very familiar with the material. "Aquiles' playing is so beautiful, so musical and soulful," praises Eliana. "Plus he is a lovely human being with a great sense of humour, and we have become good friends."
The personal and musical empathy of the pair is audible in the warmth of the album. From mellow and soulful compositions to upbeat and witty numbers, Cuevas and Báez remain totally
in sync. Nowhere is this better demonstrated than on the title track, one featuring fast and fluent guitar picking and almost impossibly speedy vocals from Eliana.
El Curruchá has a special personal significance to Eliana, as she explains. "It was a song my father played all the time. Whenever there was a family gathering, he'd pull out the cuatro and play that song. He passed away when I was 11. He loved music and played and sang, and that song is a very important memory from my childhood. Plus it is so much fun!"
Báez contributed one original song, the rhythmic and upbeat "San Rafael, while Cuevas' 'En Un Pedacito De Tu Corazon'" is reprised here, in a stripped-down form. "Caballo Viejo" "is a classic song that became known outside Venezuela, and it was used as the basis of the Gipsy Kings' hit "Bamboléo". Eliana notes that "it was written by Simón Díaz. If anybody knows about joropo, a very traditional Venezuelan rhythm, they know him."
She describes "Maria Antonia" as "another quirky and funny song. It is about a woman who does eccentric things, like showering on the table and sleeping in a laundry tub. 'Aquel Zuliano' is built around a very percussive rhythm from Maracaibo called gaita, one usually played around Christmas time." Another highlight on an album devoid of lowlights is "Flor De Mayo," a quietly expressive tune showcasing Eliana's subtle vocal skills.
El Curruchá is the sixth entry in Eliana Cuevas's impressive and eclectic discography. She has never been constrained by genre boxes in her songwriting, drawing freely from jazz, Latin, folk and world music elements.
This stylistic diversity is reflected in the fact she has won a National Jazz Award for Latin Jazz Artist of the Year, two Toronto Independent Music Awards for Best World Music Artist , an Independent Music Award for Best Latin Album in the US, and a Canadian Folk Music Award for World Solo Artist of the Year.
When our current troubled circumstances ease, Eliana is looking forward to touring with Aquiles Báez. In the meantime, this talented pair have brought us El Curruchá, for our great listening pleasure.
"An eclectic mix of styles performed with artistry and heart."                                               The Toronto Star
"Musical class on an international level meets driving South American rhythms and first class Latin."
The Toronto Star
WINNER: Best Latin Album
2014 Independent Music Awards
WINNER: Latin Jazz Artist of the Year
2009 National Jazz Awards