Music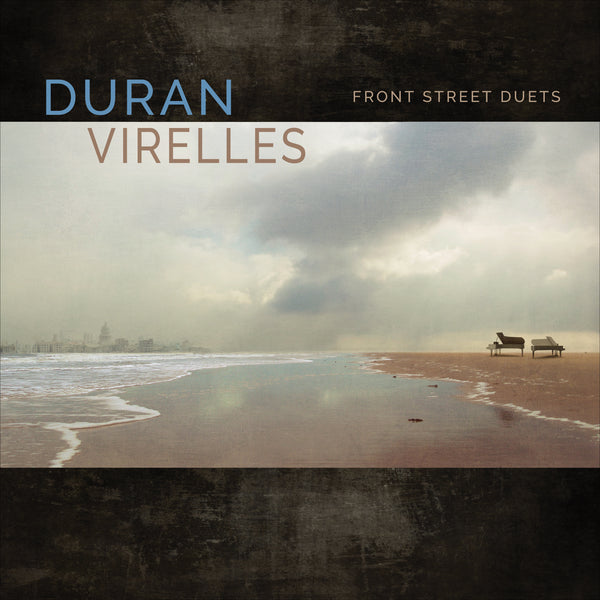 Hilario Duran - David Virelles
Front Street Duets
Hilario Duran - David Virelles
Details
Internationally Acclaimed Cuban Jazz Pianists and Composers Hilario Duran and David Virelles Present a Collection of Virtuosic Collaborations
on 
Front Street Duets
Available November 4 (October 14 in Canada) 
via ALMA Records
Front Street Duets, set for release on ALMA Records on October 14 (November 4 worldwide), is a compelling collaboration of two internationally acclaimed Cuban jazz pianists and composers, Hilario Duran and David Virelles. This collection of piano duets features the virtuosic playing of two musicians in peak form. Duran and Virelles have a musical and personal relationship dating back over two decades, but this is their most extensive project to date.
The Toronto-based Duran is a towering figure in Cuban music. Over a career now spanning over 45 years, he has won three Juno Awards and earned a Grammy nomination (for 2006's From the Heart, by Hilario Durán and his Latin Big Band). His extensive discography includes work as a solo artist, and in duo, small group and big band settings, and he has also achieved distinction in the classical and chamber music worlds.
Now based in New York City after a stint in Toronto, Virelles records as a solo artist for such labels as ECM and Pi Recordings. He has collaborated extensively with such noted musicians as Andrew Cyrille, Bill Frisell, Henry Threadgill, Steve Coleman, and Ravi Coltrane, and last year he won the prestigious Herb Alpert Awards in the Arts.
When ALMA head and album producer Peter Cardinali presented the concept to Duran and Virelles a couple of years ago, both instantly agreed. "This album is very special because I had the privilege to work with David," Duran explains. "He is the most important Cuban piano player of this new generation, and now he has so much success in the New York City scene, playing with great jazz stars and doing his own projects."
Thirty years Hilario's junior, Virelles had long admired Duran's music. "Growing up in Santiago de Cuba, I knew of him, and then I was introduced to a lot of his records that weren't available in Cuba through my Toronto friends Jane Bunnett and Roberto Occhipinti.
"As a bandleader, arranger, composer, and pianist, Hilario's sophistication as a musician is unparalleled and that is something I've tried to emulate," Virelles says. "He has always been a reference point for me and for so many young Cuban musicians. When he asked me to do this I was like, 'this is perfect!'"
The album is a carefully curated collection of material that features new arrangements by both of traditional Cuban material, original compositions written by Hilario specifically for the project, and a fresh take on a much-loved standard, "Body and Soul."