Music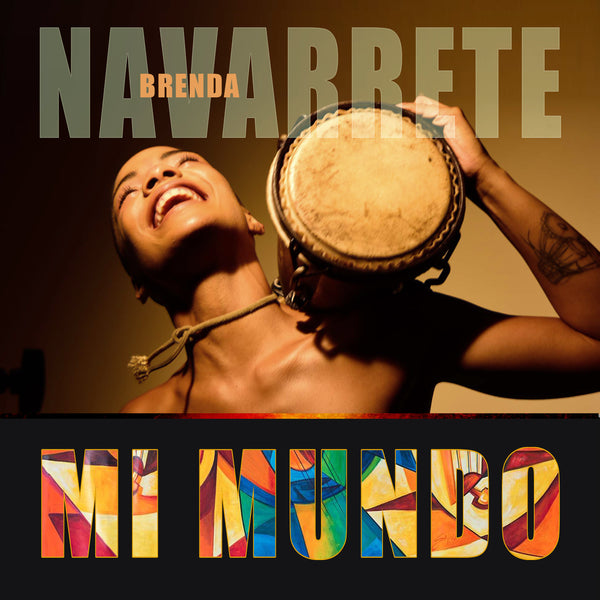 Brenda Navarrete
Mi Mundo
Brenda Navarrete
Details
Mi Mundo introduces a shining new star on the world music firmament. This is the solo debut of Brenda Navarrete, a Cuban-based singer, songwriter, percussionist and bandleader of rare skill and musical originality. She has previously made an impact singing in the internationally-acclaimed Cuban group Interactivo, performing at clubs and festivals in the U.S. and Canada, but she now takes a giant creative leap forward with Mi Mundo. Set for worldwide release on ALMA Records on January 19, 2018, the album was recorded in Havana with producer Peter Cardinali (ALMA's founder), award-winning engineer John "Beetle" Bailey, and an all-star cast of Cuban instrumentalists.
"Being able to record Mi Mundo in Havana is a dream come true," Brenda explains. "Havana is where I was born. Cuba is my country, my homeland, and having the opportunity to record here with musicians who know me and who understand my musical style is amazing. The energy of Cuba and Havana is very important to me, and I think that we have captured that force on this album".
The stylistically eclectic album features a variety of group settings, with the primary instruments consisting of drums, piano, electric bass and percussion, including batá and congas played by Navarrete. Renowned special guests include Horacio 'El Negro' Hernandez, Rodney Barreto and Jose Carlos on drums, Roberto Carcasses, Rolando Luna and Leonardo Ledesman on piano, Alain Perez on bass (he also arranged several of the songs and wrote "Taita Bilongo"), Adonis Panter on quinto and Eduardo Sandoval on trombone.
Brenda's initial musical reputation centered on her ability as a percussionist, on batá, but it is her warm and fluent voice and songwriting ability that take centre stage on Mi Mundo. Four of her original compositions appear on Mi Mundo, including "A Ochun." "That song is very special to me," says Brenda. "It was my first composition and one of my first recordings. Ochun is the goddess of love and it's a song that I wrote while sitting on the bank of a river, where Ochun is said to live. Most of the song came out that first day and I finished the arrangement at home and dedicated it to her when it was recorded.
"I have infused new colors into the version that we have recorded for Mi Mundo. The new recording is very special due to the quality of the music and my improved vocals." A genuine highlight on an album devoid of lowlights, "A Ochun" is a dynamic and delightful treat that begins with percussion and call and response vocals, which then fade away in favour of gentle piano and flute stylings.
Navarrete describes Mi Mundo as "a World Music record, with an Afro-Cuban flavour. I chose that title because this is a reflection of my musical world. I have a tremendous range of influences, having grown up in a very musical environment.
"When I was a little girl, my sister and I loved to listen to jazz greats like Sarah Vaughan, Ella Fitzgerald and Billie Holiday. I also gravitated to artists like Nat King Cole, John Coltrane, Bobby McFerrin, Miles Davis, Yellow Jackets and Cassandra Wilson, but also BoyzII Men and Take 6. My home environment also featured music from great Cuban artists like Cecilia Cruz, Benny More and Celeste Mendoza.
"All those artists and musical styles have contributed to my musical growth since I was a child. All of that energy and the different rhythms, colours and styles of Afro-Cuban, Latin Jazz and World Music have inspired me as a composer. I adore Cuban music, and mixing all of those styles together with traditional Cuban music is powerful and exhilarating." An example of this original and compelling fusion is "Caravana," Brenda's distinctive take on the Duke Ellington classic "Caravan." "Rumbero Como Yo" is another tune Navarrete had previously recorded, but the version on Mi Mundo is fuller and more powerful, featuring six musicians imparting an intoxicating rumba feel. Also re-recorded for the album is "Taita Bilongo," an infectiously rhythmic number boosted by trumpet and a guest male vocal appearance by the song's composer, Alain Perez.
Navarrete's formal musical education included studying percussion at the Amadeo Roldán Music Conservatory in Havana. "I was trained in symphonic and Cuban percussion on a variety of instruments, as well as piano," she recalls. "I also studied the history of universal music, Cuban music and music theory, but learning batá was more of a street classroom experience along the way. As for singing, it was very spontaneous, without any formal training. I just sang what I felt, without ever really wondering whether it was good or bad. It was just what I felt."
Her skill as a percussionist was confirmed in 2010 when Brenda won the Bata drum competition at the Fiesta del Tambor in Havana, and she was subsequently endorsed by Canadian cymbal-maker, Sabian, as well as the Gon Bops percussion company. She has played on the recordings of many notable Cuban artists, and Brenda recently guested on batá and vocals on Contumbao, the upcoming album from Cuban-Canadian pianist/composer Hilario Duran.
Brenda Navarrete's focus is now firmly set on Mi Mundo. This beautiful expression of her musical universe is now going out into the world, and it deserves your close attention.