Music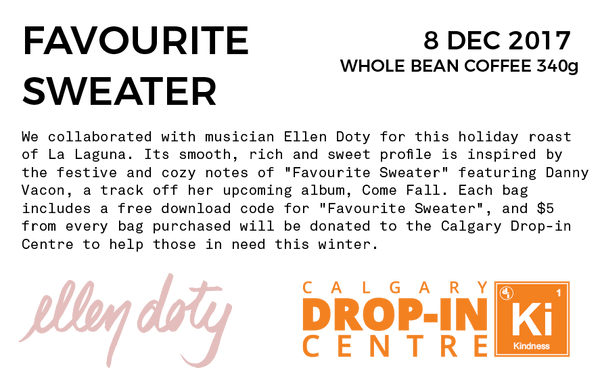 Ellen Doty
Monogram Coffee x Ellen Doty x Favourite Sweater
Ellen Doty
Details
CLICK "ADD TO CART" >> PROCEED TO CHECKOUT >> SIGN IN >> ADD PROMO CODE>>  ENJOY!!
Soulful vocalist and songwriter, Ellen Doty, of Calgary, Alberta, is collaborating with local shop Monogram Coffee in support of the Calgary Drop-In and Rehab Centre. Starting December 8th, $5 from every bag of "Favourite Sweater" coffee that is sold will be donated to the Calgary DI. Not only that, each bag will also come with a free early bird download of the latest version of "Favourite Sweater", a duet written and performed by Doty and local rocker Danny Vacon from The Dudes, that will be on Doty's forthcoming album set for release on March 2nd, 2018. An acoustic version of the song was released last Christmas with all proceeds also going to the Calgary DI. This collaboration, and this cause, are both very near and dear to Ellen's heart. She wanted to tell you about it in her own words:
Before Monogram, I was a tea drinker. My first ever cup of coffee was poured with love in the Altadore shop, and it changed what I thought I knew about the drink. I've been hooked ever since.
As a hustling musician, I spend a lot of time working in coffee shops. From the benches of Monogram, I answer emails, book shows, write song lyrics, and dream about the future. In the last two years a lot in my career has changed, but the location hasn't. I still love spending long days at Monogram with my friends there, dreaming and doing. The staff and owners of Monogram have been some of my biggest cheerleaders; coming to my shows, playing my music over the speakers, and welcoming me through the doors every time I come in.
This fall I had the honour of signing with Alma Records, a Toronto-based music label, in order to release my sophomore album Come Fall. To celebrate, my friends at Monogram and I wanted to come together to share our talents and values. This holiday season, we are incredibly excited to extend a warm hand to our community and launch our collaboration roast, "Favourite Sweater". The team at Monogram selected a special Guatemalan coffee inspired by my music. This is a small batch lot custom roasted to express the warmth and festive flavour of the holidays. It is smooth, creamy and very drinkable. To me, this collaboration represents everything I love most. I love to work with the places that have supported me, to support local businesses, and to give back to the Calgary community. Oh, and I also love coffee.
The Calgary Drop-In and Rehab Centre provides shelter, housing, and wrap-around supports to Calgary's most vulnerable people — those experiencing homelessness and those struggling through extreme poverty. "A huge thank you to Ellen and the amazing staff at Monogram Coffee for supporting clients at the DI," says Debbie Newman, executive director, Calgary Drop-In & Rehab Centre. "This wonderful partnership continues to support DI initiatives such as counseling, job training and affordable housing. Thank you, Monogram, for being someone for those who have no one." For more information on their organization, you can visit www.calgarydropin.ca.
Special thanks to our friends at West Canadian Digital Imaging Inc. for sponsoring the printing for this collaboration as well.
I hope that this project keeps Calgary warm; warm sipping a cup of coffee, warm wearing their favourite sweater, and for those in our community who need it most, warm from the cold this winter. "Favourite Sweater" coffee will be available at all Monogram Coffee locations in Calgary (Altadore, Fifth Avenue Place, and their newest café in Britannia opening before Christmas) as well as online at www.ellendoty.com.
Happy Holidays!