Music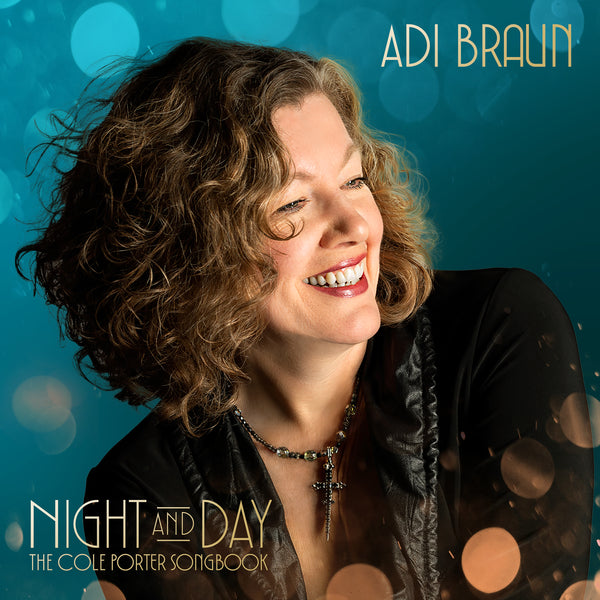 Adi Braun
Night And Day (The Cole Porter Songbook)
Adi Braun
Details
ADI BRAUN PRESENTS
NIGHT AND DAY (THE COLE PORTER SONGBOOK)

Adi Braun's love affair with the music of Cole Porter runs long and deep. The acclaimed Toronto jazz and cabaret chanteuse has long covered his tunes in her performances and on record. She describes the music of her favourite Great American Songbook writer as "delicious, a great combination of naughty, provocative, sensuous, witty and devastatingly beautiful. I am also smitten by the fact that he wrote both lyrics and music, and his use of sexy Latin beats and rhythms is another major drawing card for me."

Braun's affection for the work of the masterful songwriter has now reached full bloom with Night And Day (The Cole Porter Songbook), an album comprising ten classic Cole Porter songs given vibrant new life. Her sixth full-length record will be released on Sept. 15, 2023, on noted Toronto independent record label, ALMA Records.

Adi's most ambitious album yet, Night and Day is a collaboration with Emmy-winning Canadian keyboardist, songwriter, producer, and arranger Don Breithaupt (Monkey House, Brass Transit). The pair had long had a mutual admiration for each other's work, as Don explains.

"Adi was one of the first singers to record songs by the Breithaupt Brothers. on her 2005 album The Rules Of The Game, and I've always respected her sound. her nuance as an interpreter. and her international approach to jazz. "I contacted her in 2021, as I had a feeling I could help her cook something great. The minute we zeroed in on the Cole Porter songbook, a bottomless well of great melodies and lyrics, we had our focus."

Don's mastery of the Great American Songbook form made him a perfect creative partner for Adi, and he recruited Juno-winning engineer John 'Beetie' Bailey to record and mix. The team then set up shop at elite Toronto studio Noble Street with an A-list of jazz players, to create the triumph that is Night and Day. That illustrious list includes the likes of bassist Pat Collins and drummer Mark Kelso. guitarist Justin Abedin, violinist Drew Jurecka. cellist Brian Holt, and ace horn players Vern Dorge, John Johnson, and Phil Dwyer. and William Sperandei.

As well as handling the production, Breithaupt came up with the imaginative horn and string arrangements that are a key component of the record. He notes that "the rich settings of these tunes give Adi a big harmonic river to glide along." Braun did just that, rising to the challenge with stellar emotionally expressive vocal performances that bring a real freshness to these much-loved tunes.